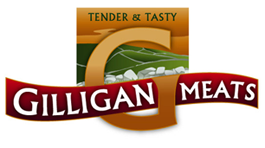 "Here at Gilligan Meats we pride ourselves on having  top quality products. Businesses in today's environment will not survive, if they can't guarantee consistent quality products.
We have been dealing with Rosie & Jim for the past 8 years. In all that time, I have received nothing only complements on their product range. Their latest "Pizza Twist" is a classic example of their passion and innovation. It's another gold medal winner! Congratulations!"
Padraic & Alan Gilligan.
- Gilligan Meats have been rearing beef in Roscommon for over 100 years and supply to butchers, businesses and customers all over the country, as well as locally in their Farm Shop just outside Roscommon Town. Their extensive range includes the finest beef products, pork, poultry and also their own home cooked oven ready frozen meals.