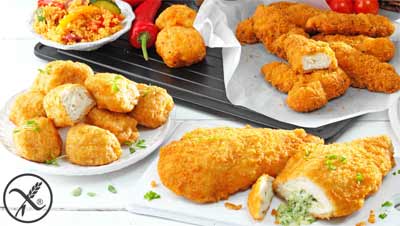 Welcome to Rosie & Jim
We make Gluten Free foods so good they are the first choice for everyone who loves healthy, honest, homestyle, tasty food.
Established since 1997.
News, Charity & Community
Our Happy Customers!
"Thank you once again for bringing out such fabulous products. I recently purchased your Shredded Chicken with chilli and I feel like I'm in heaven!"
Gluten Free Cork Page - on Facebook
www.facebook.com/glutenfreecork
"Just wanted to drop you a message to say that I'm not happy with your chicken goujons! Not happy that they are made from PROPER chicken and taste feckin' massive, so I have to keep buying them! ...To say that they are RIDICULOUSLY nicer than any supermarket brand (and in fairness there are a couple of decent ones) is an understatement. It's great to see an Irish company producing quality food, especially in current circumstances... "
Damien Hickey
"Hi there. I'm just sending you a quick email to say how impressed I am with the southern fried Gougons. I've been a a ceoliac almost 15 years and I have never found anything as tasty and so like non gluten free ones. Thanks so much. Will be purchasing regularly... "
Cliona O'Gara, Co. Mayo.
"I just want to say a big THANK YOU. My daughter who is 8 is on a strict gluten AND dairy free diet for the next couple of months. I have bought your products for years but today it occurred to me to check if the gluten-free was dairy free - I checked out your gorgeous website and there it is!! GLUTEN AND DAIRY FREE! HAPPY MOM DANCE."
Colleen Gallagher / Curran
"I would like to congratulate you on a very good product. I find it really tasty and the chicken to taste like chicken. I don't normally buy packets of meat as I would cook everything from scratch but I have had great comments from the family. "
Theresa Halley, Dublin
"I just wanted to say that your chicken is the best I have had. I am from America and a coeliac. Before getting diagnosed I use to eat in a chicken place that had amazing fried chicken... yours tastes just like I remember if not better! Thanks!"
Natalie Klempel, USA
"I have only been diagnosed a few months ago and was raging. Heard of these and... recently found them in my local SuperValu. The goujons are gorgeous, on par with any I've ever had. Have used them in wraps, for 'hot chicken rolls' and as a main with sweet potato fries and corn on the cob..."
Beth Brennan, www.myglutenfreelife.ie
"Your Gluten Free Chicken Goujons just made my Coeliac son aged 12 unbelievably happy - the most "realistic" thing he's eaten in months. A thousand thanks!!"
Tim Burke, Co. Cork.
"Our little girl has allergies so it's hard for us to find products that make her feel "normal"! She's only five and birthday parties or even tea-times can be tricky but your gluten free range has changed that!!"
Ruth Farrell, Co. Waterford
"Just a quick email to thank you for your beautiful Gluten free goujouns. They are truly delicious. I'm Gluten free since a baby - just over 30 years and really appreciate when delicious products come on the market. Thank you!! Just noticed all your other gluten free products can't wait to try them."
Nuala McDermott, Co. Roscommon
"We had to let you know how delicious your chicken kievs and gougons are! The best ever tasted!! Thank you so much for sharing your gorgeous food. Keep up the good work. Hope it brings you every success..."
Alison Ducker, West Cork
"As a health conscious individual who partake a in Olympic weightlifting and bodybuilding, your products are beyond belief. I can't believe the kievs are gluten free. And the macros are awesome. Once I am finished all my freezer full of chicken I will definitely be purchasing more from you."
Kate Collins, Co. Clare.