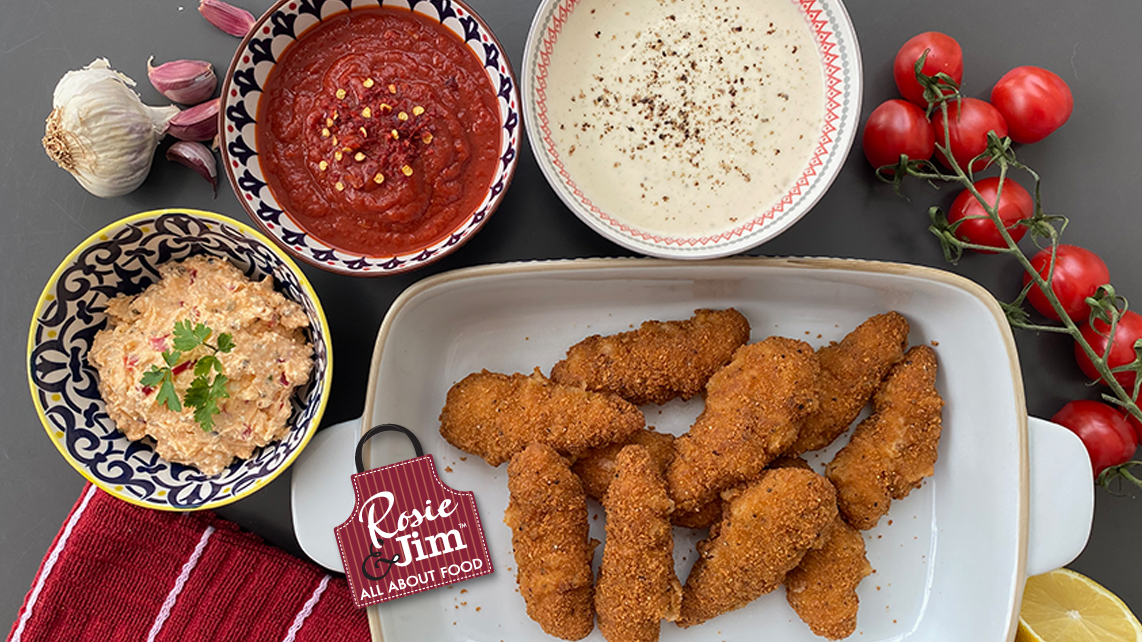 Feta Dip
Ingredients
200g feta
200g cream cheese
½ red pepper
1 clove of garlic
1 tbsp tomato paste
½ teaspoon oregano
Juice of half a lemon
10g chopped parsley
3 tbsp olive oil

Method
Clean the peppers and chop into small pieces. Press the garlic with the garlic crusher or alternative.
Put all ingredients in a bowl and mix well until the dip is nice and creamy.
Garlic Dip
Ingredients
6 tbsp yogurt
3 garlic cloves
2 tbsp mayonnaise,
1 teaspoon hot mustard
1 pinch of salt & pepper
3 tbsp sour cream
1 dash of vinegar (e.g. red or white wine vinegar)
1 pinch of sugar

Method
Finel chop the garlic. Now mix the yogurt with the mayonnaise, sour cream, mustard and a dash of vinegar in a bowl - then stir in the finely chopped garlic. Let the dip rest in the fridge for about 30 minutes and then season with salt, pepper and a pinch of sugar - cover again in the fridge and serve the sauce cold.
About This Product...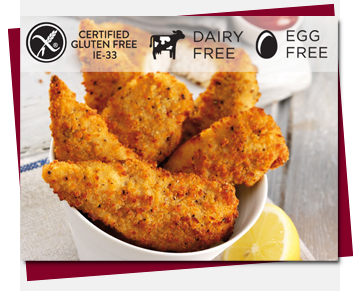 Gluten Free Southern Fried Chicken Goujons
Tender portions of breaded fillet of chicken tenderloins with a delicious, southern fried flavour. Coating is light, crispy and not too spicy!
About our Southern Fried Goujons
Hot Salsa
Ingredients
1.2 kg of tomatoes
5 cloves of garlic
2-3 red onions (depending on size)
3-4 green chili peppers (depending on how spicy you like it)
100ml of olive oil
100ml apple cider vinegar
2 tbsp smoked paprika
2 tbsp cumin (cumin)
Salt & pepper
A little sugar, optionally to taste
Method
Wash and dice tomatoes. Peel the garlic and onions and dice them too. Finely cut the chilli peppers. Heat some oil in a saucepan and saute the garlic, onions and chilli until onions are translucent. Add vinegar and spices. Simmer for about five minutes with the lid closed until the diced tomatoes have disolved. If necessary, use a hand blender to blitz. Season well with salt and pepper. Pour the sauce into sterilized jars while still hot and close immediately. This will make more than enough so freeze the leftovers for next time!