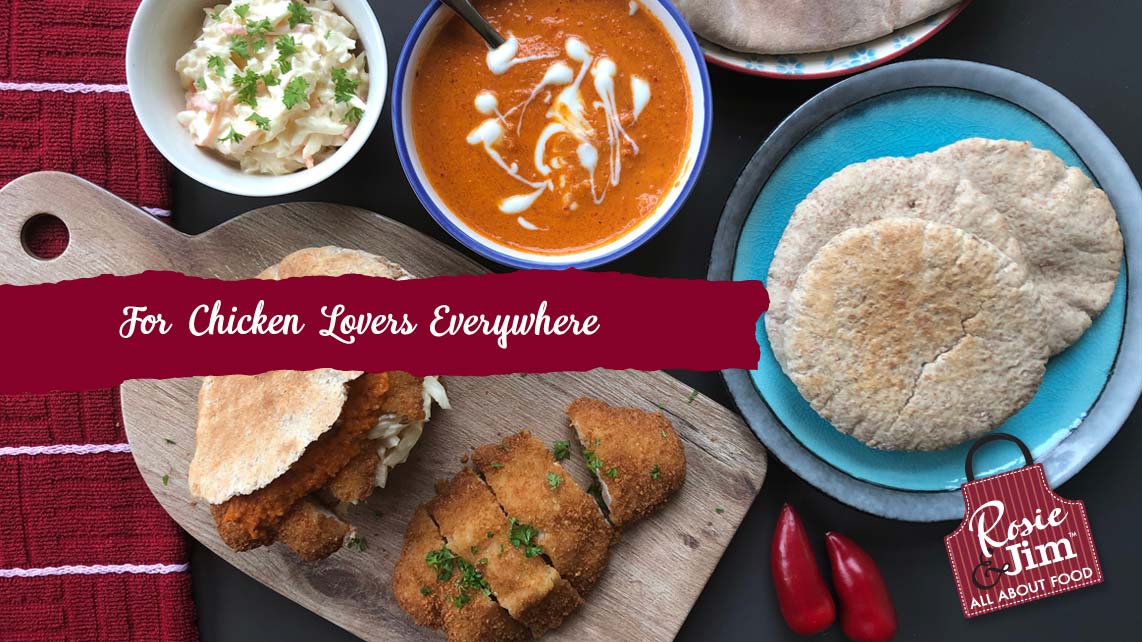 Ingredients
Need a meal you can pull together in 30 minutes? Just get Rosie & Jim Chicken Fillets, some Peri-peri sauce, pick up your favourite coleslaw and grab some Pitta Breads. That's all you'll need!

Or make your own easy Peri-peri sauce!
2 Tablespoons of Olive Oil
1 Bell Pepper
½ Onion chopped finely
3 Chillies chopped finely – African Bird's Eye Chillies if you can get them – we used mixed chillies
3 Garlic Cloves chopped finely
1 Tablespoon Paprika
2 Red Wine Vinegar
1 Tablespoon fresh Lemon Juice
4 Tablespoons of water
Salt
Pepper
Method
Breaded Chicken Fillet:
Oven bake for best results. Preheat oven to 190ºC/375ºF/gas 5 (fan assisted ovens reduce temperature to 170ºC). Bake product for 25-30 minutes. Cooking from frozen, allow an additional 10 minutes on to cooking time.
Peri-peri Sauce:
Heat the oil in a pan.
Add the bell pepper, onion, chillies, garlic, paprika and cook for about 10 minutes/until soft.
Let it cool a little and then transfer the mix to a blender.
Add the vinegar, lemon juice and water and blend until smooth.
Check for seasoning. Add salt and pepper if needed.
You can keep this in the fridge for a few days before using. Though make sure to remember to take it out to let it get back to room temperature before you use it.
To Serve:
Warm or toast the Pitta bread. Slice it open on one side.
Stuff the Pitta with Coleslaw.
Chop up the Chicken Fillet and add to the Pitta.
Dollop your Peri-peri sauce on top!
Nomnom.
About This Product...