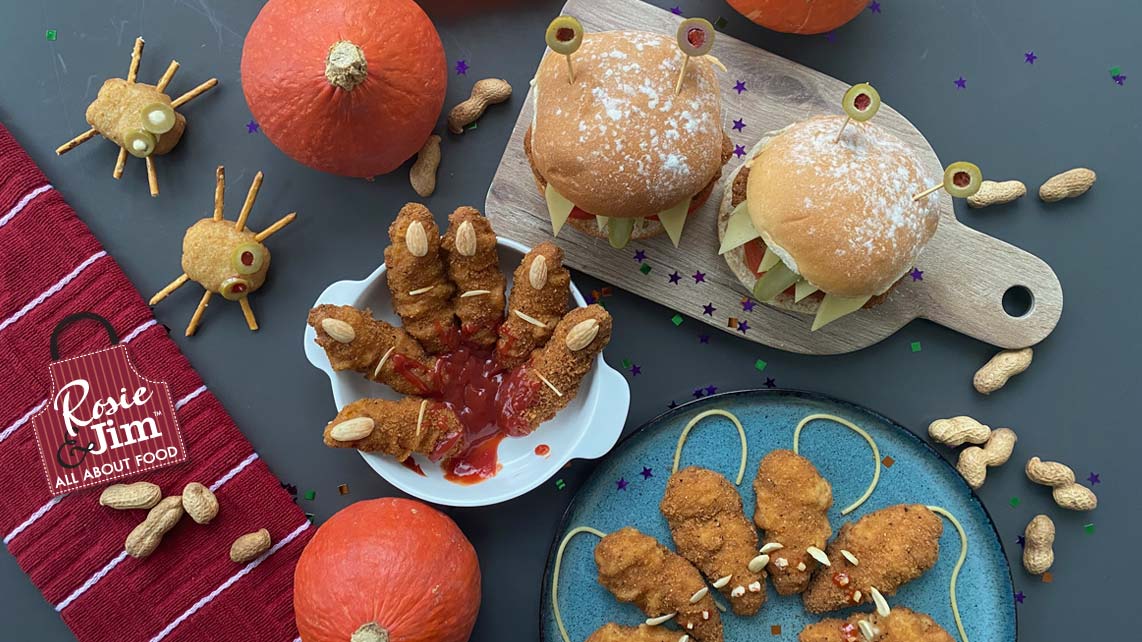 Witches Frightful Fingers - with Rosie & Jim Goulish Goujons
We used almonds split in 2 as the nails. Half way through cooking, dot a little egg wash on the top of the goujons and lay the half almond on it.
Put back in the oven to continue cooking. We used a few shards of almond as the knuckle.
Use plenty of the tried and tested tomato ketchup for edible blood!
Mysterious Mice - with Rosie & Jim Southern Fried Gostly Goujons
Cook some pasta for the long tails.
We use the almonds sliced in 2 for the ears this time.
Blob some tomato ketchup or mayo on for eyes.
Monstrous Monster Burgers - with Rosie & Jim Frightening Fillets
Slice up some olives and put them on cocktail sticks for the eyes.
Chop some sliced cheese into teeth and use a gerkin as the tongue.
Supernatural Spiders - with Rosie & Jim Chicken Creepy Chunks
Use Pretzels as the legs!
We used the sliced olives as eyes again, blob on some tomato ketchup or mayo before you put down the olives.