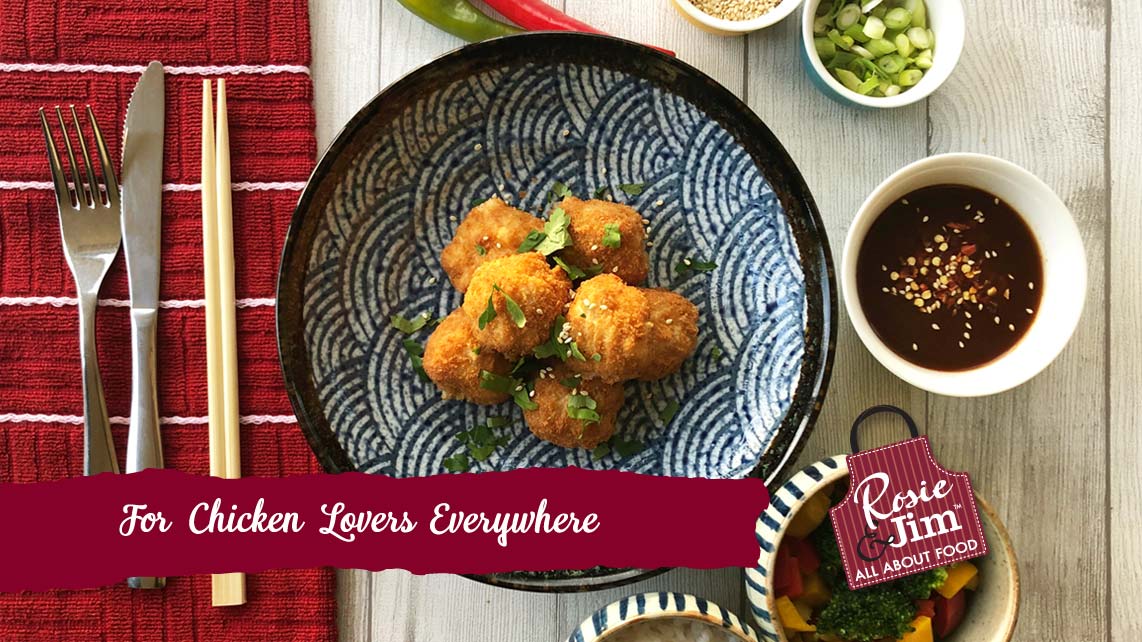 Ingredients
2 tbs of hot sauce. We love the full-bodied, smoky flavoured Bull's Eye Red Hot Chilli Hot Sauce.
1/2 tsp cayenne pepper optional - add only if you like it extra spicy!
2 tbs of sugar, preferably brown.
2 tbs of soy sauce. For a gluten free version use Tamari/Coconut Aminos
2 tbs of tomato paste
1 clove of crushed garlic
2 tsp of grated ginger root
1 cup of water
salt & pepper
Oil for frying e.g. Coconut Oil

To Serve
Spring onions, finely chopped
Toasted sesame seeds
Stir-Fry veg of your choice e.g. peppers, broccoli, carrots.
Rice
Method
Chicken Chunks:
For best results, cook from frozen. Preheat oven to 190ºC/375ºF/gas 5 (fan assisted ovens reduce temperature to 180ºC), bake product for 25-30 minutes. If defrosting, defrost thoroughly in fridge, and subtract 10 minutes from cooking time.
Sauce:
Put the host sauce, sugar, soy sauce, tomato paste, garlic, ginger and water in a saucepan and mix well.
Simmer on a medium heat until the sauce reduces down into a thicker sauce.
Season with salt and black pepper to taste.
Cook your rice according to packet instructions.
Chop and quickly stir fry your vegetables in a little hot oil.
Serve with rice and stir-fied vegetables.
Sprinkle with chopped spring onions and a large pinch of sesame seeds.
About This Product...