Ingredients
Red & Green Chilli
Spring Onion
Rice of your choice
Sweet Chilli Sauce
Method
Open your 500g bag of Rosie & Jim Battered Chicken Chunks.
Bake at 180oc for 25-30 minutes.
Cut red & green chilli into thin slices.
Add sliced chilli to cooked rice.
Thinly slice spring onion.
Stir mixture thoroughly.
Add Chicken Chunks to your bed of rice.
Garnish with Sweet Chilli Sauce.
About This Product...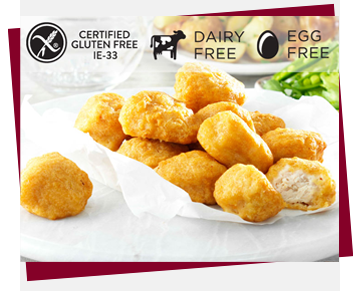 Battered Chicken Chunks
Whole fillet chunks of 100% chicken breast, in a light, golden, tempura batter coating!
Battered Chicken Chunks