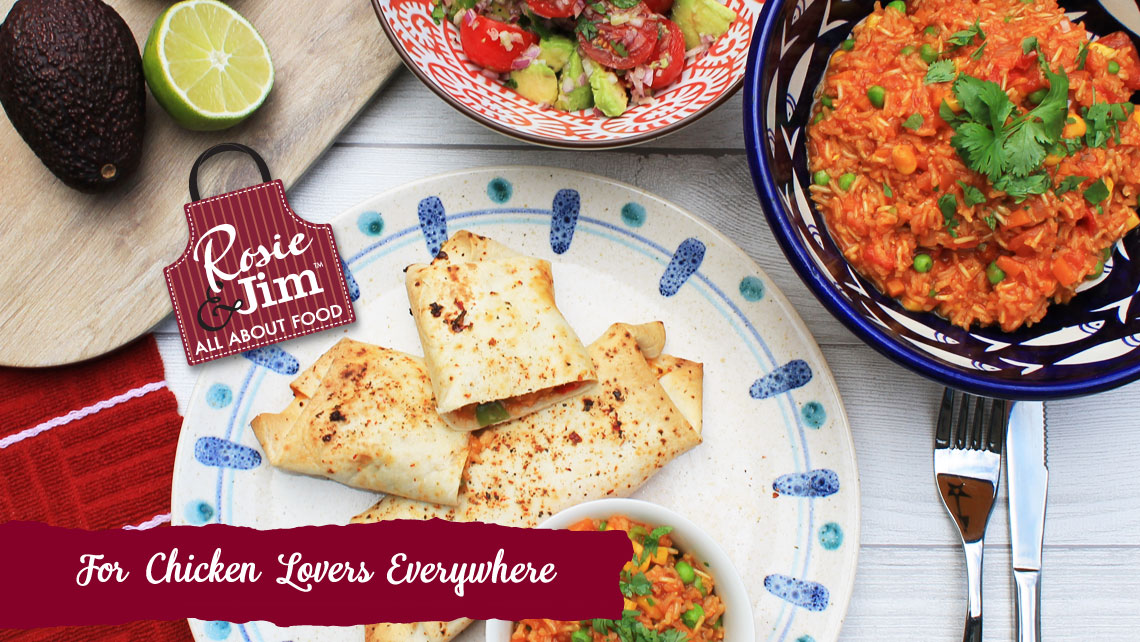 Ingredients
For the Avocado Salad
Extra-virgin olive oil
Juice of 1/2 lime
Large pinch cumin
Salt /black pepper
1/2 medium red onion, finely chopped
6/8 cherry tomatoes, halved
1 chilli, minced
1 ripe avocado, cubed
2 tbsp. coriander, chopped
Method
Preheat oven to 190ºC/375ºF/gas 5 (fan assisted ovens reduce temperature to 170ºC).
Heat olive oil in a large saucepan over medium heat. Add onion and cook, stirring frequently, until onions have become translucent, about 10 minutes.
Add the garlic and cook for another minute.
Stir in rice and toast for about 2 minutes.
Stir in the chopped tomatoes and vegetable stock and allow to simmer.
Stir in sweetcorn, carrots, peas, chilli powder and cumin.
Season with salt and pepper to taste.
Bring to a boil; cover, reduce heat and simmer until rice is cooked through, about 13-16 minutes.
While that is cooking, bake the Rosie & Jim wrap for 15-20 minutes. Serve piping hot. If cooking from frozen, add 10 minutes on to cooking time.
Stir the tomatoes into the Mexican Rice for final 5 minutes of cooking.
Now, make the quick avocado salad. In a jar, add the olive oil, lime juice, cumin, salt and pepper. Put the lid on a shake well to mix.
Put the Onion, Cherry Tomatoes, Chilli, Avocado into a bowl and toss well with the dressing.
Add Coriander on top.
Take the rice off the heat and plate up the Mexican Chicken Wraps.
Add a spoonful of Mexican Rice to the plate and sprinkle with Coriander.
Take the salad to the table for people to help themselves to as much as they want!
Bon appétit or as the Mexicans say - Provecho!
For the Mexican Rice
1 tablespoon olive oil
1 clove of garlic, minced
1/2 onion, diced
¾ cup basmati rice
½ can chopped tomatoes
¾ cup vegetable stock
1 cup sweetcorn
1 carrot diced small
1/2 cup frozen peas
Big pinch chilli powder
Big pinch cumin
Salt and pepper, to taste
2 tomatoes, diced
2 tbsp. coriander, chopped
About This Product...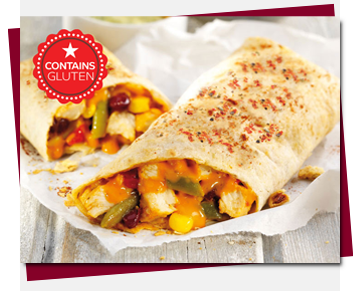 Mexican Chicken Wrap
A mouth watering mix of chicken breast fillet pieces, stir-fry vegetables, cheese, sweetcorn, kidney beans and salsa sauce, all wrapped in flour tortillas.
About our Mexican Wrap